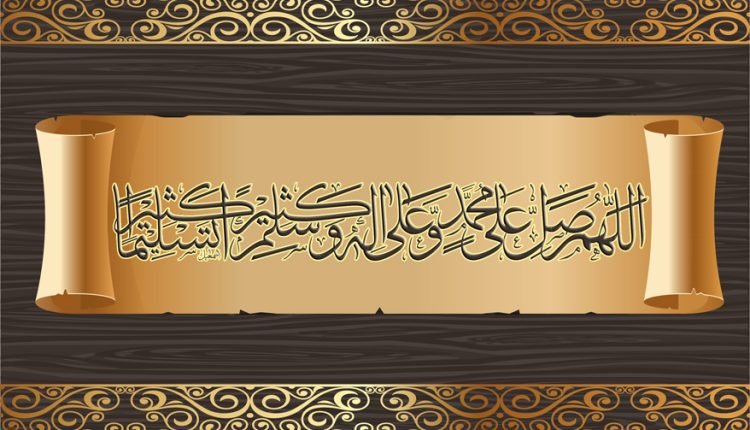 Submit Darood O Salawat on Prophet Muhammad saw
Submit Darood
Table of Contents
إِنَّ اللَّهَ وَمَلَائِكَتَهُ يُصَلُّونَ عَلَى النَّبِيِّ يَا أَيُّهَا الَّذِينَ آمَنُوا صَلُّوا عَلَيْهِ وَسَلِّمُوا تَسْلِيمًا۝
"Be Shak Allah Aur Us Ke (Sab) Firshte Nabiyye(Mukarram SallAllahu Ta'ala 'Alayhi Wa-Aalihi Wa-Sallam) Par Durood Bhejte Rehte Hain, Aye Imaan Waalo! Tum (Bhi) Un Par Durood Bheja Karo Aur Khoob Salaam Bheja Karo."
[Al-Aḥzāb, 33 : 56.]
Salawat (Arabic: صَلَوَات, ṣalawāt sg. salat; also referred to as divine blessings on Muhammad, darood shareef or darood-e-Ibrahim) is an Islamic complimentary Arabic phrase, which contains the salutation upon Muhammad.
Whenever a true follower (momin) hears my name and reads darood shareef those two angels exclaim, "May Almighty Allah grant you forgiveness!" On this request of the angels, Almighty Allaah says in reply, "Aameen." Similarly, if my name is spoken in front of any one and he does not send durood then those two angels exclaim, "May Almighty Allaah not grant you forgiveness!" At then at that instance the angels say, "Aameen." – [ref: Tazhital Majalis Pg 119, Vol 2 and Midaarijun Nabuwat Pg 157]
Yaad Rakkhein! Ko'i Amal Aur Ibaadat Aisi Nahin Jis Ka Qubool Hona Hatmi Aur Qat'iy Ho Jaise Namaaz, Roza, Hajj, Zakaat, Sadqa-o-Khayraat, Jihaad Wa Deegar A'maale Saalehah Aur Har Ibaadate Zanniyy-ul-Qubool Hai Chaahe Mawla Qubool Kare Chaahe Na Kare Magar Durood-o-Salaam Aisa Amal Hai Jo Qat'iyy-ul-Qubool Hai. Idhar Durood Padhne Waale Ne Durood Padha Aur Udhar Isi Lamhe Ise Sharfe Qubooliyyat Bakhsha Jaata Hai.
Faasiq-o-Faajir Aur Gunahgaar Ka Nek Amal To Radd Ho Sakta Hai Magar Durood-o-Salaam Hargiz Radd Nahin Hota Kyoo'n Ki Is Ka Aamil Us Kee Apni Zaat Nahin Balki Khuda Kee Zaat Hoti Hai. Isi Li'e Yeh Qat'iyy-ul-Qubool Hai Jaise Namaaz Padhna Us Ka Hukm Hai Us Ka Qaa'im Karna Ham Par Farz Hai Is Li'e Ham Kehte Hain :
إِيَّاكَ نَعْبُدُ وَإِيَّاكَ نَسْتَعِينُ۝
"(Aye Allah!) Ham Teri Hee Ibaadat Karte Hain Aur Ham Tujh Hee Se Madad Chaahte Hain."(01)
Magar Darood Sharif Padhne Ke Muta'alliq Irshaad Farmaaya Gaya :
يَا أَيُّهَا الَّذِينَ آمَنُوا صَلُّوا عَلَيْهِ وَسَلِّمُوا تَسْلِيمًا۝
"Aye Imaan Waalo! Tum (Bhi) Un Par Darood Bheja Karo Aur Khoob Salaam Bheja Karo."(02)
[Darood-o-Salam Aur Azamate Mustafa SallAllahu Ta'ala 'Alayhi Wa-Aalihi Wa-Sallam,/20_21,
(01) Al-Fātīḥah, 01 : 04,
(02)Al-Aḥzāb, 33 : 56.]
Submit Your Durood Shareef :- wa.me/918762445866
Join The WhatsApp Group –
Darood
Darood can mean: Darod, a Somali clan.
Durood
, a phrase complimenting Muhammad This disambiguation page lists articles associated with the title Darood