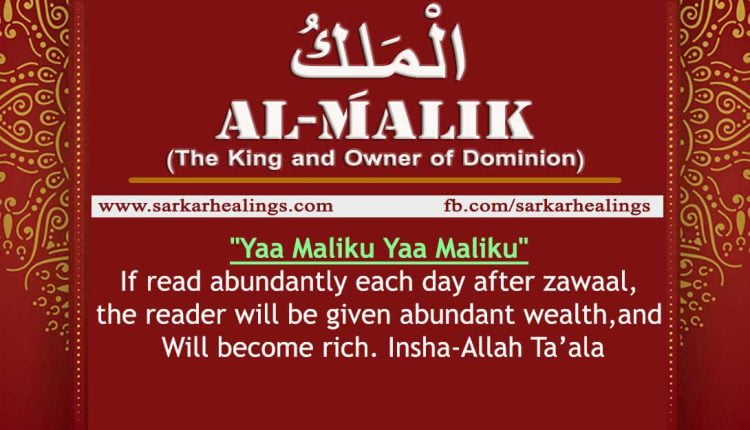 Benefits of Zikrullah Ya Maliku Wazifa
Benefits of Zikrullah Ya Maliku Wazifa
Ya Maliku is one of the characteristic name of Allah. It means Owner or King of all kings. A King of all living things. He does not ask to any one but all living things ask him if they need any thing. Ya Maliku Wazifa is one of the most powerful and tested wazifa. This is a Jalali name and its numbers are 90. 99 Names of Allah Ya Haleemu Wazifa
Ya Maliku Wazifa
For promotion in office or control all bosses in office recite Ya Maliku 90 times after every salat. In shaa Allah Ya Maliku Wazifa will make all office people love him/her.
If a person is on a higher post in an office and some one trying to get that post or pulling legs. Should recite Ya Malikul Quddusu 90 after every salat. In shaa Allah he will remina on the same post. 99 Names of Allah Ya Momino Wazifa
Write its naqsh on a small Gold plate then put it in the ring under the Garnet (Yaqoot) gemstone and wear it. In shaa Allah every one will obey him and listen him.
If some one wants to become king or minister. Should recite this Ya Maliku Wazifa daily 90,000 times for 90 days. With abstinence of Jalali and Jamali and no meat of any kind. Eat only Barley bread or roti and drink river water. In shaa Allah will become king or minister.
Ya Maliku Wazifa
Trying to find a job but still unsuccessful ! No need to worry now. To get job recite Ya Maliku Wazifa 1100 times daily. Do this 120 days. In shaa Allah will get a good job soon.
You are living on a rented house and dont have resources to buy your own house. Then you should start reciting Ya Maliku 10000 times daily. Keep doing this for 1 year and maximum 3 years. In shaa Allah by doing this Ya Maliku Wazifa you will get your own house during this period.
If some one wants to gets some specific job or wants a promotion in his / her current job. Recite YA MAALIKAL MULKI daily 7000 times for 21 days. In shaa Allah He/she will get desired job or promotion.
Some one captured your property and not going away. To vacant the house or property recite YA MAALIKAL MULKI 41000 times daily for 7 days. You can take help from other people to recite it. In shaa Allah by the help of this wazifa you will get your property back. 99 Names of Allah Ya Salamu Wazifa